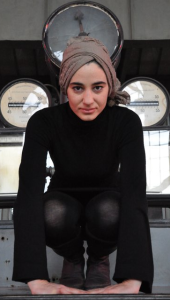 FTF
Inspired by the mythical tale I adopt a contemporary approach to focus on the social & cultural element of a territory, starting from a map on which a city is outlined and thus analysing the networks. The house, the piazza, the street and the surroundings become contemporary frame and drawings.
I worked particularly around the issue of women and of gaze, for instance in the Burka installation, or taking inspiration from ancient feminine myths, in the following works: Pandora, Puttane, Penelope, Proserpina.
I'm currently working on the theme of gaze through an analysis of no man's land and abandoned places.
The tools I use are maps, video, interviews, embroideries, photography, performances and workshops, while structuring a journey across the urban and natural territory, a geography that develops through plots and powers.
These projects have been showcased in late exhibitions: "Paesaggio", 2013, about the Venetian territory at the Cantiere OAM, Teatro Marinoni in Venice Lido; "Proserpina", 2013, about the Sicilian territory at the Piccolo Hansaldo, Officine Creative in Milan; "El album japonès", 2014, with the work "Forbidden garden" for the Galleria Obra Gráfica, Yolanda Ochando, Màlaga, Spain; "Moving Heritage", 2014, artistic performance site specific, Palazzo della Ragione of Padova, opening the Unesco World Tourism Expo 2014.
These issues have been also dealt with with a scientific perspective at the Conference "Looks and landscapes: mental & physical maps", 2013, Sevilla, Spain, on the occasion of the International Seminar of Inclusive Art, where three projects made together with Giulio Pasolini in Rio de Janeiro-Venice-Padua, focusing on the gaze and the human eye. The gaze, object of an artistic analysis, is the starting point of "our" landscape, that very landscape representing us and educating us.
---
Exhibitions:
2019 | « It's me » ceramic sculpture installation at the gallery « Casa Cava » 2019 collective culture capital "SENCE OF THE PLACE", Matera, Italy.
2018 | ARTISTIC RESIDENCE « MAPPA MONDO-GEOGRAFIA MADRE : Korè e as cores », TerraUna, Minas Gerais, Brazil.
2015 | SHAPED IN MEXICO « Geopoetic Monument », the book of botanical drawings « The forbidden Garden «sound maps», « sieves: metal geographies», OxoTower Bargehouse Galler, London.
2014 | "El album japonès" whit the work "Il giardino proibito", Galleria Obra Gráfica, Yolanda Ochando, Màlaga, Spain.
2014 | "Moving Heritage" performance site specific, Plazzo della Ragione Padova, WTE
2013/14 | "Visions and landscapes"
An artistic/educational project developed in Rio de Janeiro, Venice & Padua, presented in conferences in Padua and in Sevilla at SIAi, International Seminar of Inclusive Arts, and in a solo exhibit and workshop at Teatro Marinoni, Venice Lido.
2013 | "Proserpina"
Collective exhibition at "Piccolo Hansaldo", Officine Creative, Milan
2012 | "Raptus proserpinae"
Exhibition and performance at the Botanical Gardens in Padua (an UNESCO site).
2011 | "La casa di Penelope"
Solo exhibit for the European Heritage Days, Villa Imperiale, Galliera Veneta, Padua.
2010 | "Hestia"
Videos installations, Open studios, Metropolitan Arts Network Project, Padua.
2010 | "Laura"
Performance & video, Metropolitan Arts Network Project, Padua.
2009 | "Puttane"
Video, She Devil collective exhibition at MNAC-National Museum of Contenporary Art Bucarest (Romania) & at the Stefania Miscetti art gallery, Roma.
2008 | "Burka"
Installation, Art in Ice collective exhibition, ice sculpture symposium, Livigno (So), Italy
2008 | "1,2,3,4"
Video installation, Limina Architetture collective exhibition at Maria Sorgato Cultural Centre, Noale (Venice).
2008 | "Seek Refuge"
Performance-installation, AIM AgenziaImmobiliareMobile collective exhibition, Mestre (Ve)
2008 | "Risonanze"
Installation, solo exhibition at Oasi di Cervara, Treviso.
2007 | "Convivenza con un monumento"
Project in residence, Larrasoana, Spain and London MET University.
2007 | "Pandora"
Video, collective exhibitions at Placentia Arte (Piacenza, Italy), Modena Film Festival (Italy) & Centro de Artes Visuales, Tijuana (Mexico).
2006 | "Nightmare and dream"
Video, collective exhibition at Galleria Via Farini. Milan.
2006 | "Il vaso di Pandora"
Installation, Giornata del Contemporaneo event, Museo Teo, Milan
2006 | "Kore"
Video/installation, Disertare Dissertare exhibition, Centre Contemporary Art, Genazzano, Roma.
2005 | Rizoma
Installation, collective exhibition at Museo Leopoldo Flores, Toluca, Mexico
2005 | "Le scarpe ciniche"
Performance, Brera Academy of Fine Arts, Milan.
2004 | "La seppia"
Performance, personal exhibition at Gallery Studioventicinque. Milan
2003 | "Burka"
Installation in public space, Plaza de Lavapiés, Madrid.
2002 | "Casas y calles"
Installation "toma miel y continua tu viaje", collective exhibition in four open studios, Madrid.